At Red Rooster Coops, we create beautiful and functional chicken coops for the urban and suburban chicken enthusiast.

All our coops are made to order; you choose the size, configuration, materials and color....the chickens do the rest!

"A frame coops", "walk in coops with enclosed runs" and other shapes and sizes are available. Coops are Wisconsin weather tight! Pigeon lofts and other types of hutches and pens available on request. Coops can be made for 4-12 chickens. Custom coops may include glass block windows, windows, solar lighting, interior lighting and electricity. The walk-in run areas display a large "people door.

Ask about the awesome poultry feeders and waterers that we make.
Call or email Jeff to order yours today
| | | |
| --- | --- | --- |
| | From small coops to large coops to blinds and sheds, we can make it all. | |
View our portfolio for inspiration for your custom coop.
Perfect "4 Clucker"
​Coops


Ask about our "Perfect 4 Clucker" coops! View a tour of a 4 clucker coop in our

about page

.

Some features shown are considered premium upgrades and are available upon request.4 Clucker coops start at 775.
​Coops shown are 850 - 1000.
Reviews
I just purchased a coop from Red Rooster, I couldn't be more pleased! Great custom designing gave me the sort of durable, user-friendly coop great for my flock and comfortable for me to use! An almost infinite set of possibilities as the coops are custom designed to suit each client! Highly recommend!
- Marcia R.

Jeff delivered our coop a few days before my writing this, and we are so pleased. The product is superb, Jeff is extremely knowledgeable and helpful, and the price can't be beat for such quality. Thanks Jeff! The chickens love their new home.
- Tim H.

Red Rooster also makes hunting blinds
Custom made hunting blinds 4' x 4', 4' x 5', 5' x 5' 4' x 6'. Blinds feature 8" x 24" sliding plexiglass windows, smart panel siding, and large 24" x 68" entry door. These are life-time blinds that can be elevated on a platform or used on the ground or a trailer.

Contact Jeff to discuss your options.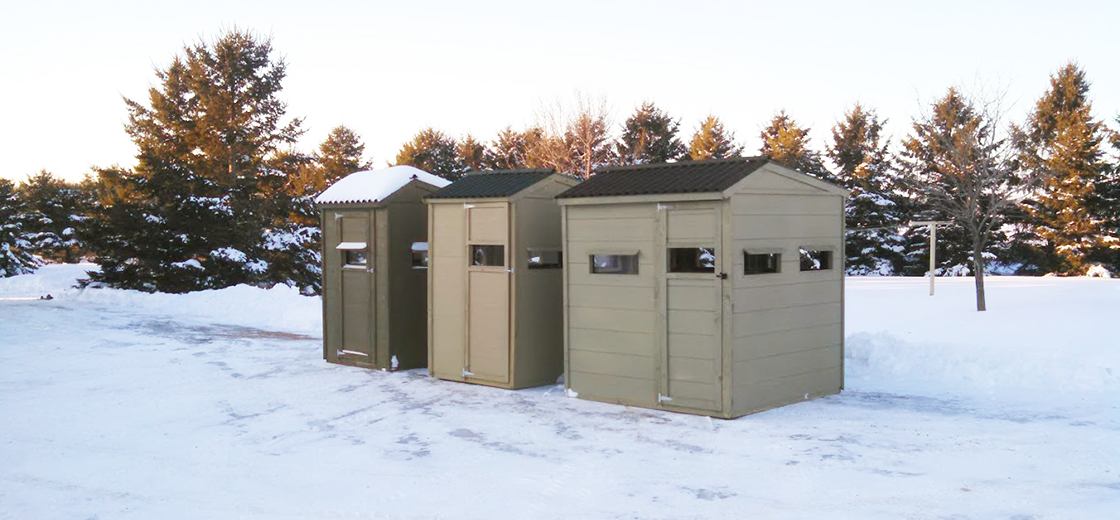 | | | |
| --- | --- | --- |
| | Our shop is located in Middleton, Wisconsin. We build local coops and coops for urban and suburban areas throughout the Midwest. | |
| | | |
| --- | --- | --- |
| | You may visit our shop to see current coops in progress, or discuss your coop needs in person. Occasionally, we have ready made coops available for sale at our shop. Please call, text or email Jeff to schedule an appointment. | |