The Finest Handmade Chicken Coops in the Midwest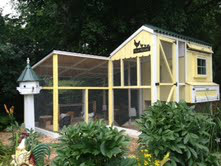 At Red Rooster Coops, we create beautiful and functional chicken coops for the urban and suburban chicken enthusiast. All our coops are made to order; you choose the size, configuration, materials and color.

"A frame coops", "walk in coops with enclosed runs" and other shapes and sizes are available. Coops have electricity and are Wisconsin weather tight! Pigeon lofts and other types of hutches and pens available on request.

---
Red Rooster Coops in the News!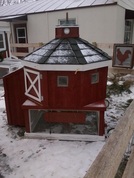 Our coops were featured in an article written for the The Capital Times in Madison, WI!
Susan Troller, owner of Cluck, The Chicken Store in Madison speaks about the growing trend of backyard chickens and our beautiful Octogonal Coop was featured. To read the full article, click
here
.
---